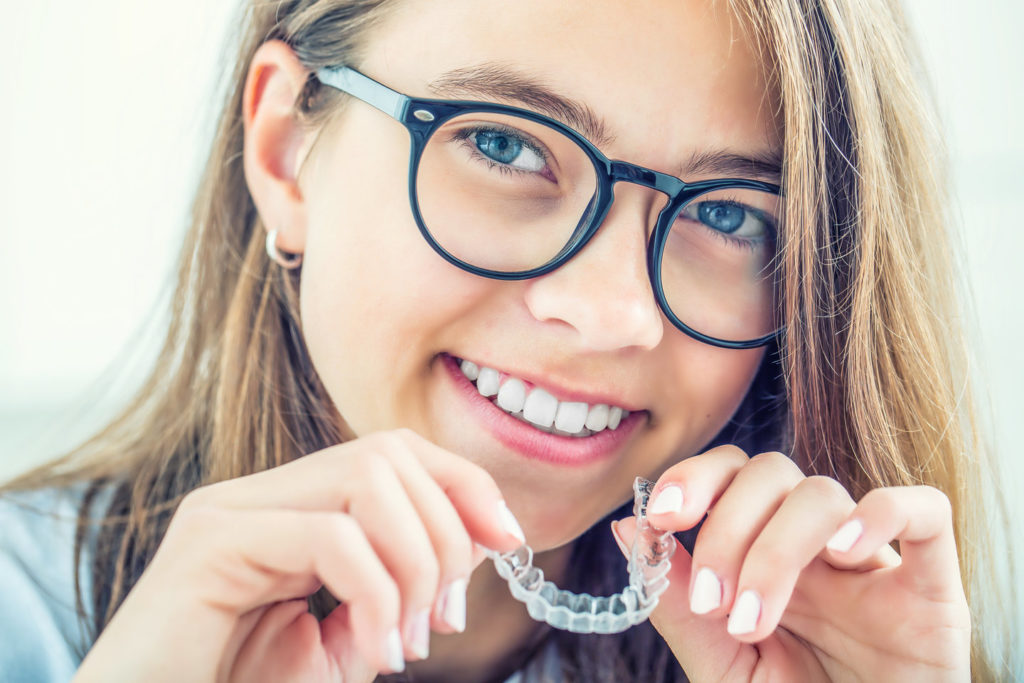 At Gruene Family Dental, we routinely see students from Canyon High School and New Braunfels High School. When the subject of orthodontics comes up, many teenagers are worried by the thought of having to wear clunky metal braces. They are athletes, artists, and rising YouTube stars who don't want the sight of brackets and wires detracting from their accomplishments. We are proud to offer Invisalign Teen at our practice to provide young adults with a discreet and effective alternative to traditional braces. Keep reading to find out how it works.
Why Is Invisialign Teen Effective?
Invisalign Teen is based on the revolutionary technology behind traditional Invisalign treatments. It uses a series of clear plastic trays to move teeth into the correct position. They are almost impossible to notice while being worn. Furthermore, unlike traditional metal braces, the trays can be easily removed and put back in. If your child is playing a musical instrument or grabbing something to eat with friends, they can place their trays back on their teeth once the activity is over. They don't need to worry about their orthodontic treatment interrupting their way of life.
How Invisalign Teen Works
The process begins with an initial consultation. During this appointment, Dr. Turnbow will inspect your child's teeth and gums to identify any underlying issues that might disqualify them for Invisalign treatment. She will refer them to an orthodontist for further assistance if necessary.
Once your child's teeth are cleared for treatment, a digital scan of their teeth will be made. These images will be sent to a laboratory where a series of clear aligners will be created. They will be sent back to the office and your dentist will meet with you and your child again to discuss how to wear the trays.
Each tray is worn for a few weeks and slowly moves teeth into the correct position. Patients must leave them on for at least 22 hours per day in order for them to be effective. The trays have a small blue dot on them that loses its color over time. When the dot is clear, it is letting your child know that they are now ready to move to the next set of aligners.
There will also be a few checkup appointments to ensure that your child's teeth are moving as expected. If Dr. Turnbow detects that they are not, she can make adjustments to the trays and get things back on track.
Why Choose Gruene Family Dental?
At our practice, we've completed multiple Invisalign Teen cases successfully. Advanced technology such as the digital impression system and intraoral cameras allow us to fully comprehend the condition of a teenager's mouth before starting any treatment. Furthermore, our practice has implemented many new safety procedures in response to COVID-19 to ensure that patients are protected from the virus when they come in for a consultation or checkup appointments.
Teens today have a lot to worry about, so don't let misaligned teeth get in the way of their happiness. With Invisalign Teen, you can help them go through high school with confidence in their smile.
About the Author
Dr. Kim Turnbow went to dental school at the University of Texas Health Science Center at San Antonio. As a parent, she understands how crucial a great smile is to a teenager's self-esteem. She takes the time to support her patients through the Invisalign process so that they can have the great smiles they desire. If you'd like to schedule a consultation for your teen, you can do so through her practice's website or at 830-626-1111.