Cosmetic Dentistry – New Braunfels, TX
Love to Show Off Your Smile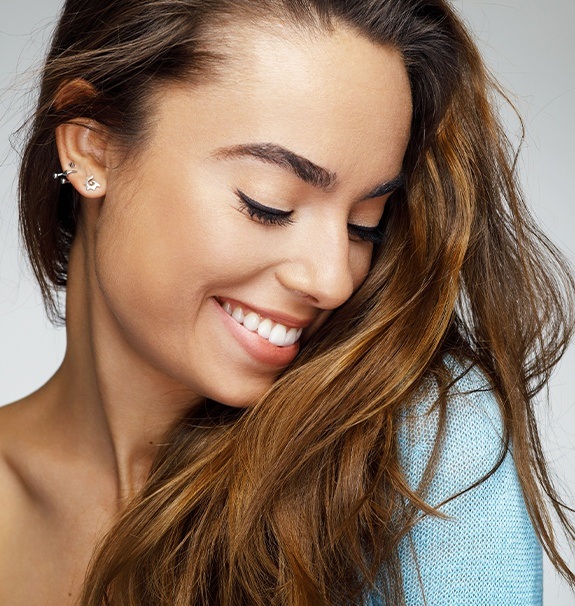 For our team at Gruene Family Dental, priority number one is ensuring good oral health for each patient who comes to our dental office. Once we've taken care of any infections, decay, or damage, we can then switch gears and focus on appearance. If you're not happy about how your smile looks, Dr. Turnbow has the necessary clinical experience and artistic skills to craft your perfect, attractive teeth. Are you ready to feel confident in your smile? Contact us and schedule your consultation to discuss cosmetic dentistry in New Braunfels, TX today!
Why Choose Gruene Family Dental for Cosmetic Dentistry?
Kind, Friendly
Dental Team
Advanced Technology for a Comfortable Experience
Customized Treatment Plan Created Just for You
Porcelain Veneers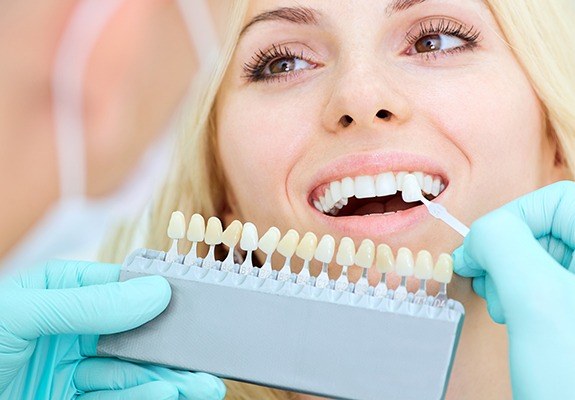 The easiest way to handle small flaws in your teeth is to cover them up! That's exactly what porcelain veneers do. These small, thin ceramic shells look just like real enamel and can address basically any esthetic imperfection, including chips, gaps, cosmetic cracks, discoloration, misshapen teeth, and more. In fact, porcelain veneers are so effective at creating natural-looking smiles that many celebrities have them to get ready for the red carpet.
Metal-Free Dental Restorations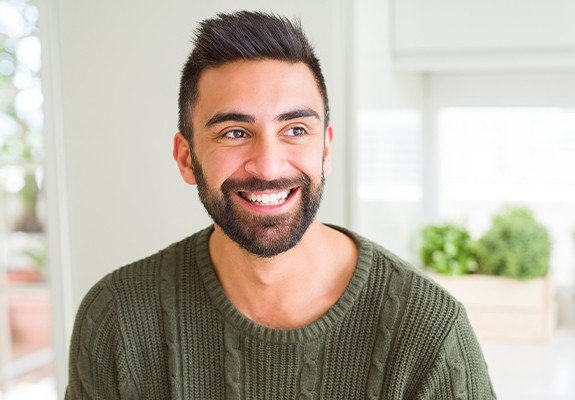 Damage from decay or an injury can ruin your day, but it doesn't have to ruin your smile. When we treat these hurting teeth, we use materials that are flattering and camouflage seamlessly with natural enamel, including tooth-colored, composite resin fillings or porcelain dental crowns. This means that just you and Dr. Turnbow will ever know that you had a problem there in the first place, and you'll get strong, durable restorations to complete your smile.
Dental Bonding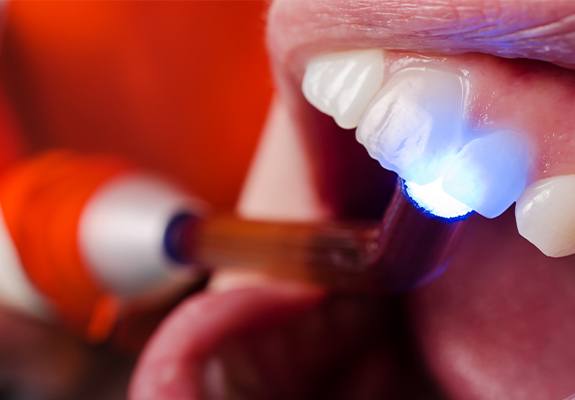 If you want a faster, more cost-friendly alternative to porcelain veneers, direct bonding may be the perfect solution for your smile. Using composite resin, Dr. Turnbow can fill in chips and gaps, cover stubborn stains, and reshape teeth. This procedure can usually be completed in just one appointment, and the results can last up to 10 years. And the best part is that no tooth structure has to be removed for this treatment, as with porcelain veneers.
At-Home Teeth Whitening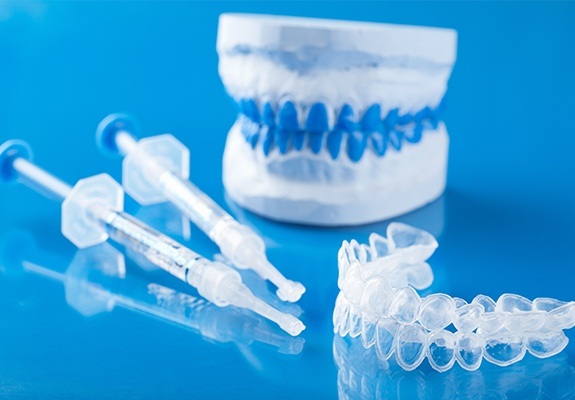 Although products in the store claim that they can dramatically whiten teeth, they often only make about two or three shades of difference. Our professional-grade solution, Philips H2O2, is much more powerful than anything that's available commercially. Plus, the whitening trays are created specifically for your mouth, which means that you'll get even coverage. In about two weeks of treatment within the comfort of your home, you can brighten your smile by up to ten shades!
Smile Makeovers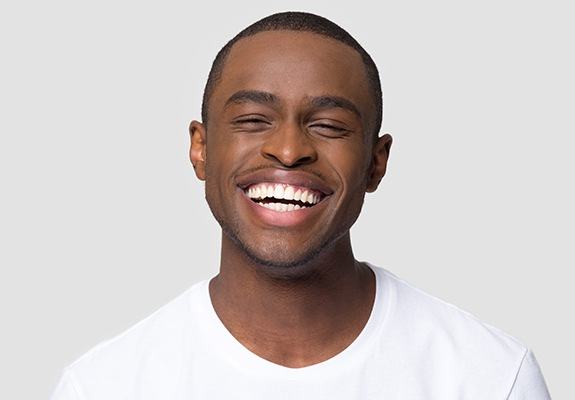 Do you know that your smile could use some professional help but you're not sure which cosmetic procedure(s) you need? Perhaps you require teeth whitening and direct bonding or another combination of our services. Based on your preferences and goals, Dr. Turnbow can put together a treatment plan that results in your dream smile. It all starts with a consultation at our New Braunfels dental office!
Learn More About Smile Makeovers
Understanding the Cost of Cosmetic Dentistry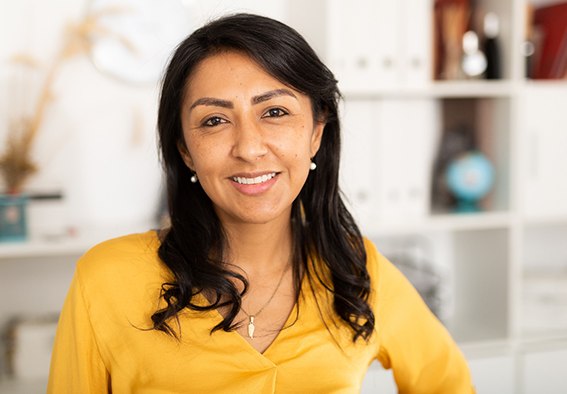 Unlike some other dental procedures, most cosmetic work is not covered by dental insurance. But don't let that prevent you from achieving the smile you deserve! Dr. Turnbow and the rest of our team at Gruene Family Dental are more than happy to work with you and your price point. We can walk you through your financial options and find a payment solution that gives you flexibility and affordability. We are committed to helping you feel confident in your smile, and we encourage you to set an appointment so we can prove it to you!
What Cosmetic Dental Service is Right For Me?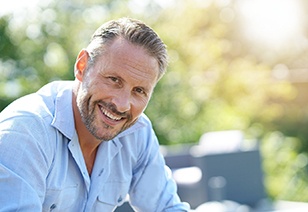 We know that cost is a major consideration when deciding how to improve your smile. In terms of pricing, each patient receives a personalized treatment plan, which means every case will be priced according to individual needs. Although we cannot provide a numerical general estimate for our cosmetic services, here are the various ways we can alter the color, size, or shape of your teeth.
Veneers: If you are just getting one or a handful, the cost will be lower than getting a full set of veneers, but you'll find that their durability and lifelike appearance are the best cosmetic dentistry has to offer.
Metal-free restorations: Depending on the reason for getting the restoration, it may be partially covered by your insurance plan.
Dental bonding: This treatment tends to cost less than veneers, but the composite resin doesn't last as long.
At-home teeth whitening: Although store-bought options may cost less, you won't get the same dramatic results you can get with the professional treatment.
Smile makeovers: Makeovers usually consist of multiple procedures in one treatment plan. However, by taking this approach, as opposed to doing each procedure individually, you can usually save on the overall cost.
Cosmetic Dentistry Can Be An Investment Worth Making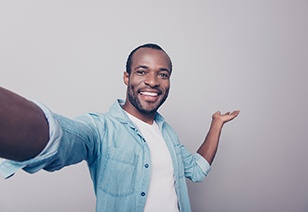 At first, cosmetic work can feel like a large investment, but that's exactly what it is—an investment! When you have a smile you're proud of, you can feel much more confident in yourself, which can lead to a myriad of improvements in your life, including in your mental health, relationships, career opportunities, and more. Although enhancing your smile may seem costly, the results are well worth it and can continue to benefit you for years.
How to Make Cosmetic Dentistry Affordable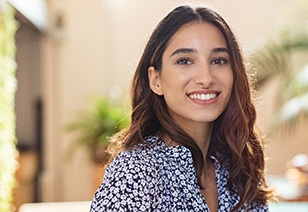 Dental insurance isn't the only way to make dental work more affordable. In fact, if you don't have dental insurance, you can take advantage of the Gruene Family Dental Membership Plan, which not only covers necessary preventive care but also offers a 20 percent discount on cosmetic procedures and other services. In addition, we accept financing through CareCredit, breaking up the overall cost into smaller monthly payments. This flexible option can put basically any treatment within your financial reach!