Meet Our Dental Team – New Braunfels, TX
Welcome to the
Gruene Family Dental Family!
At Gruene Family Dental, we treat every patient who comes to our New Braunfels dental office like a member of our own family. That means our exceptional team goes the extra mile to provide for your comfort from the moment you arrive to final checkout. We can't wait to meet you and your loved ones and give you plenty of reasons to smile more. You can learn more about our individual team members by reading the information below.
Greta, Office Manager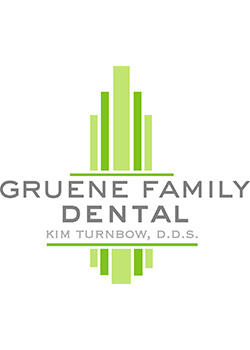 Greta's career in the dental field spans nearly forty years, with almost half of that time spent right here at our dental office. In addition to her managerial expertise, she is a Registered Dental Assistant. What she enjoys most about her role at Gruene Family Dental is getting to work for such an amazing employer like Dr. Turnbow and spend time alongside the other wonderful team members.
Greta is married with one stepdaughter and three grandkids – with another on the way! In her free time, she enjoys practicing embroidery, knitting, crocheting, sewing, quilting, and gardening. She also enjoys caring for her 10 pet ducks.
Nicole, Administration Assistant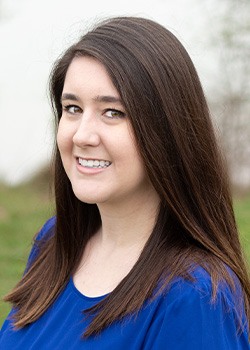 Nicole has her Associates of Applied Science from San Antonio College, and she is a Registered Dental Assistant. Today, she's been working in oral healthcare for over seven years. The best part of her job is getting to work closely with each unique patient and help them have the best experience possible at Gruene Family Dental!
Nicole grew up as a military child and traveled often, but of all the places she's been to, Texas has definitely grown to be her favorite. She's married to her high school sweetheart Nick, and they have a very spoiled dog named Rosie. When she has free time away from work, she enjoys hanging out with her loved ones, reading books, and being outdoors.
Sarah, Registered Dental Hygienist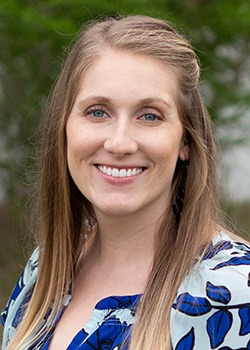 Sarah's career in dentistry spans a full decade so far, and she's very passionate about helping each individual in the treatment chair achieve their healthiest smile! After attending the University of the Incarnate Word, she studied dental hygiene at the University of Texas Health Science Center at San Antonio. She is also certified in nitrous oxide.
Sarah was born in Texas and grew up as a military child. Today, she's married to Tyler, and they have two boys named Andrew and Walter. Outside of work, she makes sure to spend lots of quality time with her loved ones.
Kirstyn, Registered Dental Hygienist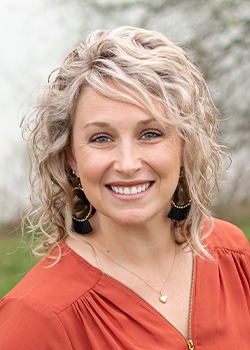 Kirstyn and her husband Justin enjoy outdoor activities and spending time with their daughters Natalee and Audree. She enjoys the family dental office atmosphere and is dedicated to maintaining her patient's dental health, as she believes it is a key factor in total body health.
Kirstyn graduated from Coastal Bend College in 2010 as a Registered Dental Hygienist.
Megan, Registered Dental Hygienist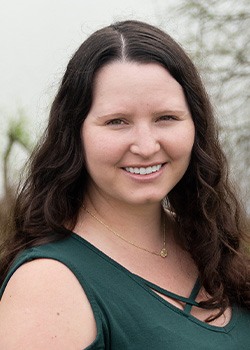 Megan is originally from Chico, CA and studied at Loma Linda University. Today, she's been working in the dental field for over 12 years and counting! What she enjoys most about her position at Dr. Turnbow's dental office is getting to work with such wonderful people.
At home, Megan and her husband Zach have one son named Caiden. When she isn't busy at work, her top priority is having fun with her baby boy! She also enjoys camping, boating, shopping, cross stitching, and playing around with her dogs. Here's an interesting fact about her: she actually used to be a competitive Irish dancer.
Stephanie, Registered Dental Assistant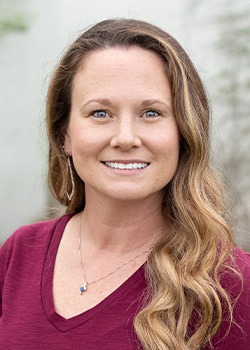 Stephanie earned her education at Texas State and is certified in nitrous oxide. A Corpus Christi native, she has been working in the world of dentistry for well over a decade now! What she enjoys most about being a part of Dr. Turnbow's team is gaining each patient's trust and helping them understand their dental needs. Getting to know the wonderful families so well over time is also great!
Outside of work, there's definitely never a dull moment in Stephanie's life. She's married to her high school sweetheart and has two boys at home. As a "boy" mom, she loves getting to watch her oldest son hone his craft as an aspiring race car driver in her spare time. His little brother will be following him down the fast-paced, adrenaline-seeking lifestyle soon enough.