Invisalign For Teens – New Braunfels, TX
The Clearer Way to a Healthier Smile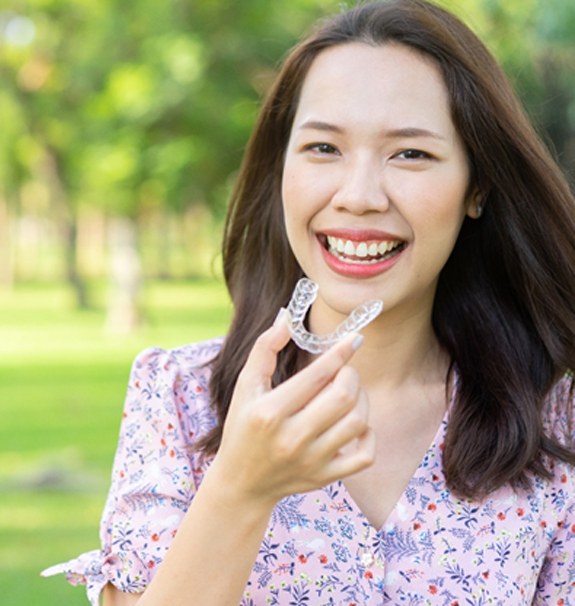 High school is hard enough these days. If you and your teen learn that they need braces to remedy a crooked smile or misaligned bite, why not choose a solution that doesn't require metal brackets or wires? With Invisalign in New Braunfels, your teenager can begin their journey to a healthier, more beautiful smile without compromising their daily appearance. At Gruene Family Dental, Dr. Turnbow and her team can work to ensure your teen is making progress throughout treatment so that results are achieved much faster. To find out how you can get started with Invisalign, contact our office today!
Why Invisalign is a Great Option for Teenagers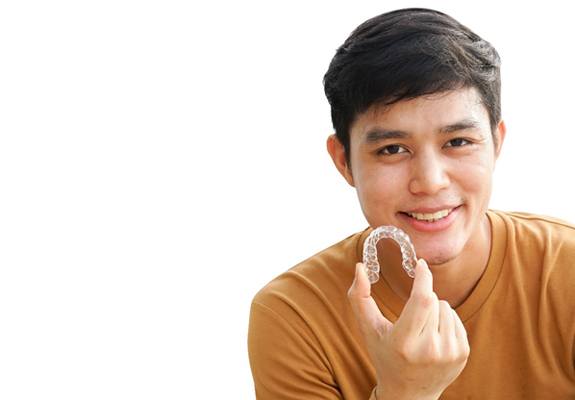 Apart from the fact that Invisalign is clear and virtually invisible, it is a great solution for your teenager because it produces fast results. It's highly unlikely that they want to wear braces any longer than necessary and since metal braces can result in years of wear, Invisalign makes it possible to see an improved smile in less time.
This unique orthodontic solution is typically offered to adults only, but teenagers can benefit from it as well, especially if they engage in extracurricular activities like band or sports. Unlike traditional braces that cannot be removed, Invisalign can be taken out during these events. It is an extremely flexible method of treatment that gives your teen a chance to achieve a healthier smile without facing their peers day-in and day-out with a mouth full of metal.
How Does Invisalign for Teens Work?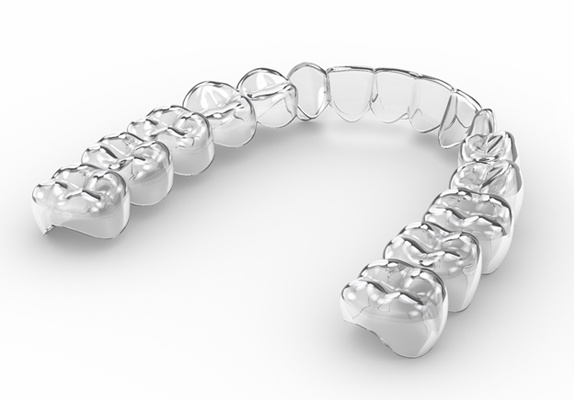 The first step in receiving Invisalign is to schedule an appointment with your child's cosmetic dentist in New Braunfels. Dr. Turnbow will examine their oral cavity and bite in its entirety, making a decision as to whether Invisalign is the right solution for desired results. Should your teen require more extensive orthodontic treatment, she will refer them to a trusted local orthodontist who can provide the necessary solution.
If your teen is eligible for Invisalign, Dr. Turnbow will take impressions of their smile and send them to dental lab technicians who will craft your teen's customized aligners. After several weeks, you will return to our office to receive the clear trays. It is during this appointment that Dr. Turnbow will go over the timeline as well as how long to wear the trays each day before swapping them out for the next set in the series.
Unlike traditional Invisalign, each aligner is equipped with a blue dot that will fade with proper wear. This helps teenagers remember when they need to swap out their set for a new one. Once the color has faded, it is time to switch to a new set of aligners. It is at this time that your teen may feel some minimal discomfort. The reason is that their teeth are shifting to try and take the form of the new trays. With some over-the-counter pain reliever and a cold compress, the pain should dissipate within a few days. It may also help to eat softer foods during this time.
Depending on the severity of your teen's individual case, their timeline for wearing Invisalign will vary; however, when finished, it will be necessary for them to wear a retainer to keep their teeth from shifting back into their original position.
Benefits for Teens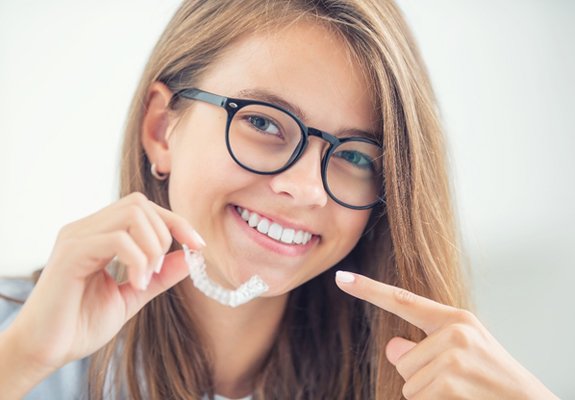 If your teenager is excited about the idea of wearing Invisalign aligners, they should be! This unique and revolutionary orthodontic solution makes it possible to improve their smile without donning a mouth full of metal. But they also offer a multitude of additional benefits, including:
Greater flexibility: If your teen is an athlete or plays an instrument, they can remove their aligners for the duration of the game/recital. This will allow them to play without worrying about damaging their aligner.
Free to eat the foods they love: Because the aligners must be removed before eating or drinking, your teen won't have to worry about getting food stuck between brackets and wires.
Little-to-no irritation: There are no hard pieces of metal rubbing against soft oral tissues with Invisalign.
Faster results: Traditional braces can take years to achieve desired results. Invisalign, over average, can take between 12-24 months.
Schedule Your Consultation Today!
If you and your teen want a better solution that won't leave them feeling embarrassed each day at school, let Dr. Turnbow and her team help. Schedule a consultation today and find out if your teenager is eligible for Invisalign in New Braunfels.