Dental Implants – New Braunfels, TX
Lifelike, Durable, & Complete Tooth Replacement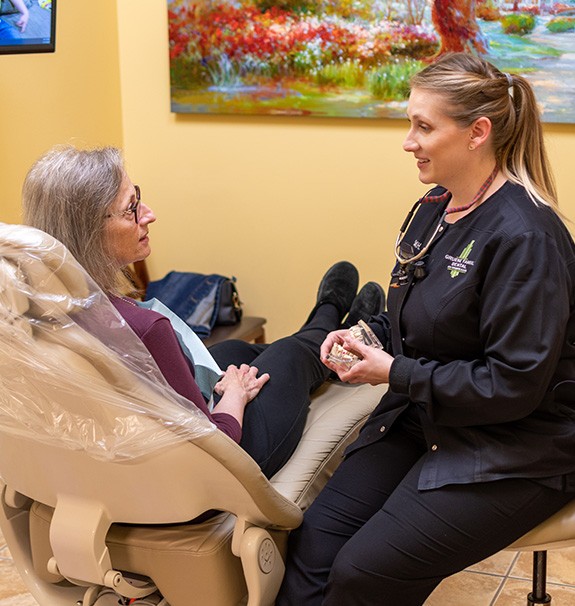 If you are looking to fill in the holes in your smile permanently, you need to consider dental implants. Compared to traditional tooth replacements, which only address the missing crowns, dental implants go deeper and reestablish a firm root structure in the jaw bone. As a result, tooth replacement with dental implants in New Braunfels, TX provides a strong foundation for a healthy smile. At Gruene Family Dental, Dr. Turnbow and the rest of our team are proud to guide patients through the process and help them rediscover their strong smiles.
Why Choose Gruene Family Dental for Dental Implants?
Durable Restorations Customized to
Your Needs
Partnered
with Local
Dental Experts
Compassionate, Skilled Dentist with
Years of Experience
What Is a Dental Implant?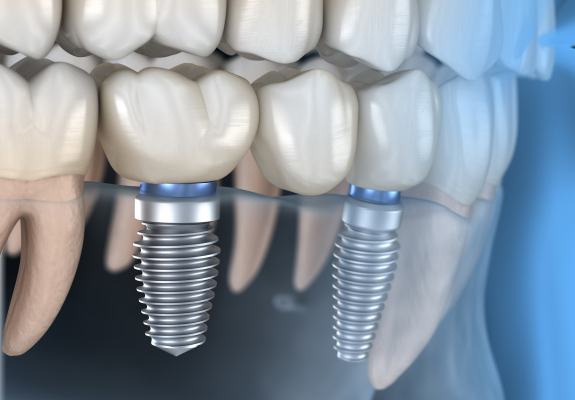 Dental implants offer a way to replace missing teeth and provide a stable anchor for dentures, bridges, or dental crowns, depending on how many teeth they're replacing. A dental implant for a missing tooth is the closest option available to the real thing, and replacing teeth with an implant is a very conservative and reliable form of treatment. Each case is different, and we customize each treatment plan according to your preferences and needs to ensure your implant will be a success.
Benefits of Dental Implants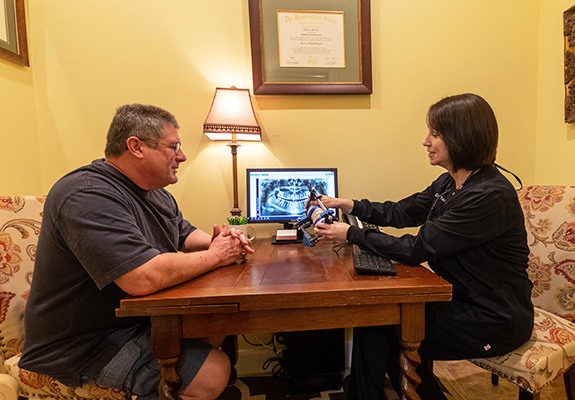 Are Dental Implants
Right For Me?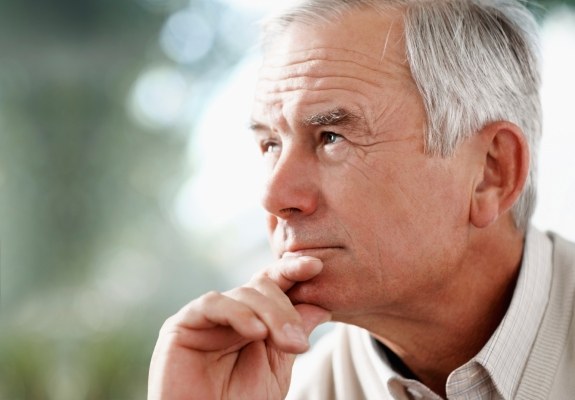 It is fairly easy to qualify for dental implants. You're likely a candidate for dental implants unless you have an oral infection like gum disease or insufficient jawbone density. However, even in those situations, we can provide treatment and get you prepared for dental implants.
Missing One Tooth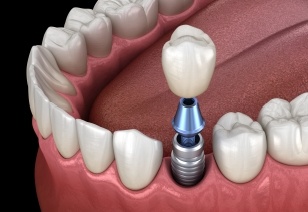 For a single lost tooth, one implant post is placed into the jawbone and topped with a custom dental abutment and crown. The replacement stands completely independent of the teeth around it. With this option, you don't have to reduce the surrounding teeth to prepare for a dental bridge.
Missing Multiple Teeth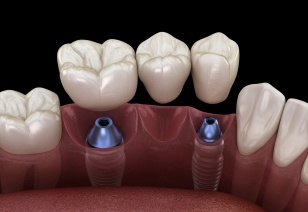 If your smile has several gaps in a row or throughout the arch, then a couple of dental implants can hold a dental bridge or partial denture in place. Instead of clasping or being attached to healthy teeth for support, these implant-retained restorations use the stability of the jawbone.
Missing All of Your Teeth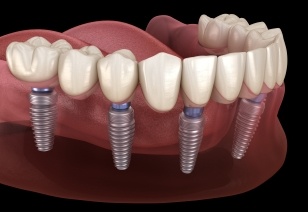 Losing an entire arch of teeth doesn't mean that you can't have dental implants. In fact, with just four to six posts in strategic locations, we can replace all of the upper or lower teeth with a high-quality full denture, which can either be permanently affixed or remain removable for convenience.
Partners with the Best in Comal & Guadalupe Counties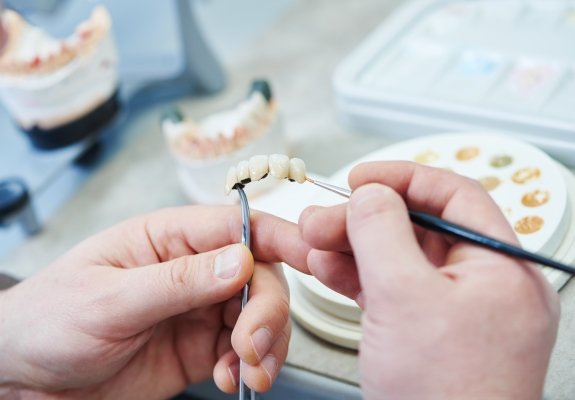 We are happy to walk patients through the entire implant process. At Gruene Family Dental, we focus on what's best for the individual patient, which is why we collaborate with some of the area's top surgical experts for the placement procedure. After all, we want to make sure that your implants are safely and properly positioned in the jawbone. Following healing, the patient returns to our dental office so that Dr. Turnbow can restore the implants.
Understanding the Cost of Dental Implants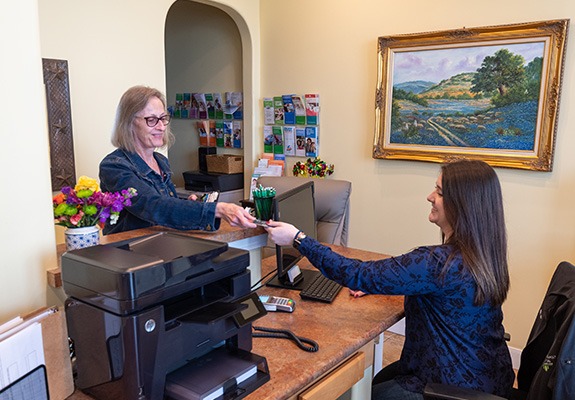 When you look only at the initial price, dental implants are clearly more expensive than traditional bridges or dentures. However, dental implants have been commonly known to last 30 or more years, as opposed to a maximum of 10 years for dental bridges or dentures. If you also consider the many necessary replacements for normal restorations over the years, dental implants most often prove to be a smart long-term investment. Also, they provide important health benefits that the other options simply can't, which makes the extra upfront cost well worth it.
During your consultation with Dr. Turnbow, we'll formulate a treatment plan catered to your needs, and then we'll review the financial aspects of the plan. We have flexible financing options and will work with you to make your treatment fit in your budget.
Dental Implant FAQs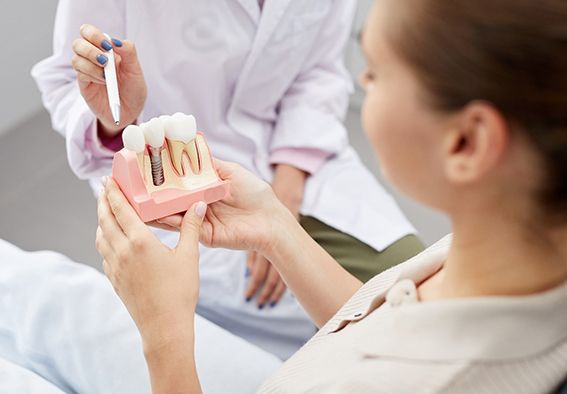 Do you still have questions about dental implants in New Braunfels? We're here to help! If you'd prefer to do more research before giving us a call, we've responded to a few frequently asked questions below. However, if you have a specific question or concern on your mind and would like to speak with our knowledgeable team directly, don't hesitate to contact our office.
What Is the Success Rate of Dental Implants?
Today, dental implants are one of the safest and most effective tooth replacement options available, boasting an impressive 95% success rate! To preserve this statistic, our dentist in New Braunfels, Dr. Turnbow takes the time to thoroughly qualify each candidate. Checking for healthy gums, an adequate amount of bone tissue, and a commitment to good dental hygiene are just a few ways she can ensure your dental implants have the highest likelihood of success in the short and long-term.
What Can I Eat with Dental Implants?
Dental implants are widely known for their unmatched durability, which provides patients with an incredibly strong biteforce. That's why they don't come with an extensive list of dietary restrictions. With that being said, you will be expected to change your diet during the recovery process. Sticking to soft foods, like yogurt and soup, will prevent irritation and promote healing. That way, your new and improved smile is good to go as soon as possible!
Can Dentures Be Made into Dental Implants?
In short, the answer is no. However, you can opt for implant-retained dentures (also known as implant dentures), which hold your prosthetic teeth in place with the same titanium posts used for traditional dental implants. If you currently have dentures and are interested in this option, then we encourage you to give us a call to schedule your initial consultation.
Does Dental Insurance Cover Dental Implants?
Since dental plans can vary significantly from one patient to the next, it is difficult to provide an all-encompassing answer. While dental implants are often considered a cosmetic procedure in the eyes of dental insurance providers, you may have available benefits that cover the exam or a portion of the crown. That's why it's always a good idea to double-check! If you need help, we'd be happy to file a claim on your behalf. If you don't have any benefits available, we can discuss flexible financing options to ensure the cost doesn't stand in your way of the smile you deserve.
How Long Do Dental Implants Last?
The lifespan of dental implants mostly depends on the lifestyle choices and health of the patient. To ensure that implants last, be sure that you are brushing, flossing, and rinsing with a mouthwash on a daily basis. See your dentist for regular checkups and avoid chewing on anything particularly hard or sticky. With proper maintenance, dental implants can last upwards of 30 years. This is several times longer than the average traditional bridges or dentures.
Does Getting Dental Implants Hurt?
The jawbone doesn't have very many nerve endings and your mouth will be numbed with a local anesthetic before the procedure begins. You will also most likely be sedated, lowering your body's ability to register pain. While the surgery itself shouldn't hurt, your mouth may be sore for a few days afterwards. Take your recommended over-the-counter and prescribed pain relievers as directed by your dentist. Cold compresses can also help to numb discomfort. If discomfort worsens instead of improving after two or three days, give us call.
Will I Have to Take Off Work for Dental Implant Surgery?
Most patients only need to take one or two days off work to get dental implants. If your job is physically demanding, you may want to take off three to four days, as heavy exercise can divert blood from the implant site and delay healing. During your consultation, we will discuss what the right number of days is for your unique case.
Can I Get Dental Implants If I'm Diabetic?
If your diabetes is under control, your odds of dental implant success are generally comparable to those of nondiabetic patients. Uncontrolled diabetes can slow down the healing process, making it more difficult for your implants to integrate with your jawbone. If you are interested in getting dental implants, talk to your endocrinologist or primary care physician about getting your blood sugar levels under control beforehand.
Want to learn more about dental implants? Ready to schedule your appointment? If you answered "yes" to either of these questions, then we can't wait to hear from you. Contact our office today!