Veneers – New Braunfels, TX
Achieve the Dazzling Smile You Deserve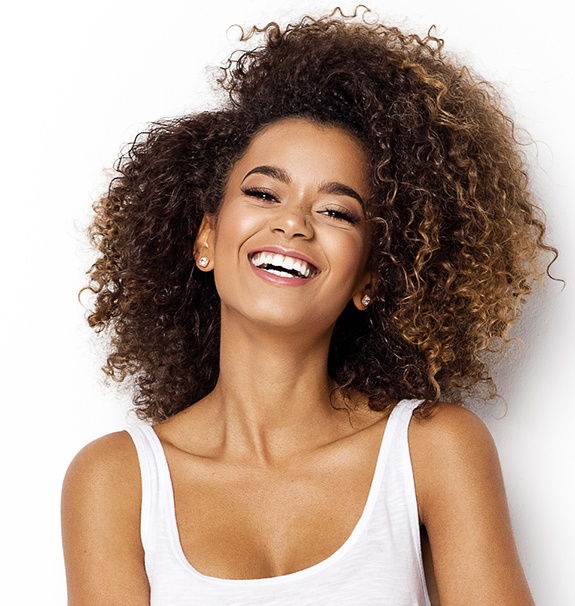 Do you find yourself hiding your teeth while smiling or taking pictures? Unfortunately, even the smallest chip, crack, stain, or other cosmetic imperfection can take a huge toll on your confidence and quality of life. Thankfully, you don't have to live with dental flaws if you don't want to! At Gruene Family Dental, we can help you achieve the dazzling smile you deserve with veneers in New Braunfels! Read on to learn more about this quick, easy, and non-invasive way to transform your pearly whites and call us today to schedule your consultation!
Why Choose Gruene Family Dental For Veneers?
Highly Experienced Dentist and Talented Dental Team
Completely Custom Treatment for Beautiful, Unique Results
State-of-the-Art Technology for Comfortable Treatment
What Are Veneers?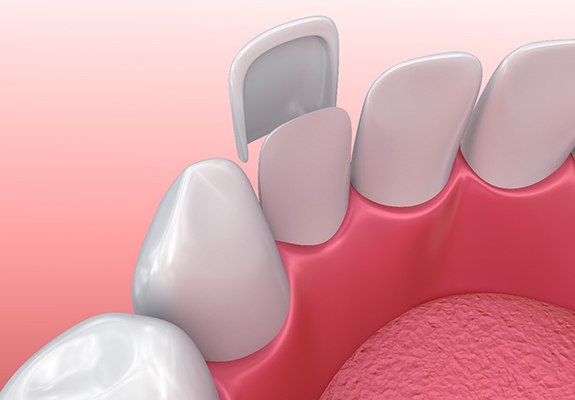 A veneer is a thin, tooth-shaped shell that can be bonded to the front of a tooth to completely transform its appearance. Since each one is custom-made, your New Braunfels cosmetic dentist Dr. Kim Turnbow can completely redesign one or more teeth to your liking. They're made of dental porcelain, which is a material that's well-known for being biocompatible, durable, stain-resistant, and incredibly natural-looking.
Who Is a Good Candidate for Veneers?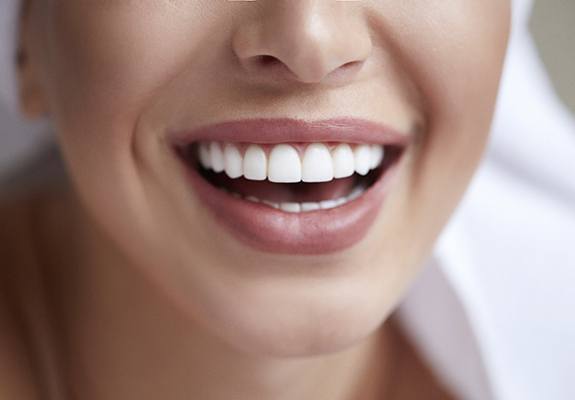 If you're not happy with your smile, there's a good chance that you're a great candidate for porcelain veneers. This versatile treatment is commonly used to treat a wide variety of issues, such as:
Chips or cracks
Stubborn stains or discoloration
Gaps between front teeth
Small or worn-down teeth
Abnormally shaped teeth
What Is the Process for Getting Veneers?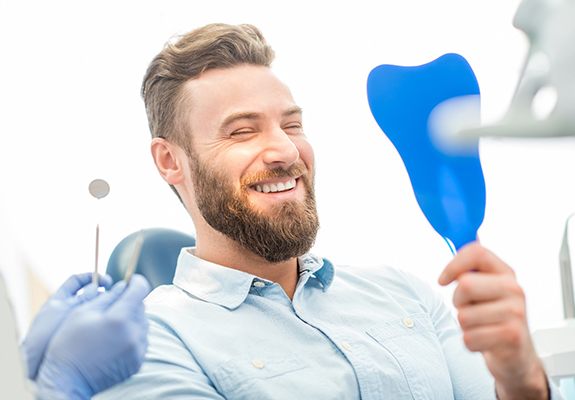 In most cases, veneers can be designed, created, and placed in just two quick and easy appointments. First, we'll clean your teeth and carefully remove a thin layer of enamel. While this will permanently alter your teeth, it's necessary to ensure that the veneers form a secure bond and don't look bulky once they're in place. Then, we'll use our state-of-the-art technology to take digital impressions of the area (no sticky dental impression putty needed!). This information will be sent to a dental lab, where it will be used to create your veneers.
Since creating your veneers could take a few weeks, we'll fit you with temporary ones before you leave to keep your teeth safe and comfortable. Before you know it, you'll be returning to our office to have your beautiful, precisely made permanent veneers bonded in place. Once we check that your bite feels comfortable, you'll be ready to show off your brand-new smile to the world!
How Much Do Veneers Cost?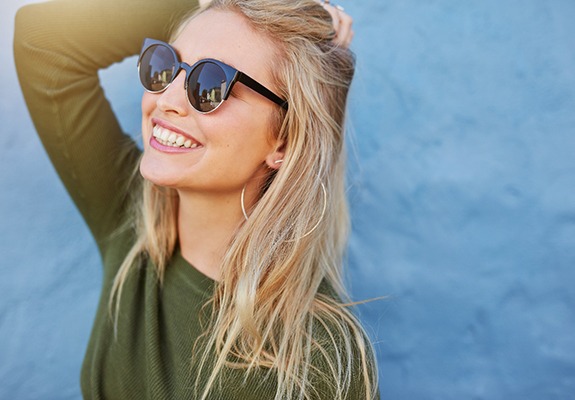 Because every smile is unique, no two veneer treatments will be the same. The final cost will vary from patient to patient depending on their individual needs and goals. Factors like how many veneers you need and if you need any preliminary treatments will also play a key role in the final price. While most dental insurance policies don't cover the cost of cosmetic treatments such as veneers, we'll be happy to help you apply for CareCredit. This third-party financing program will help break down the cost of your treatment into manageable payments that fit into your monthly budget.
It's time to get the happy, healthy, beautiful smile you deserve! Give us a call today to schedule your consultation for veneers.
Veneers FAQs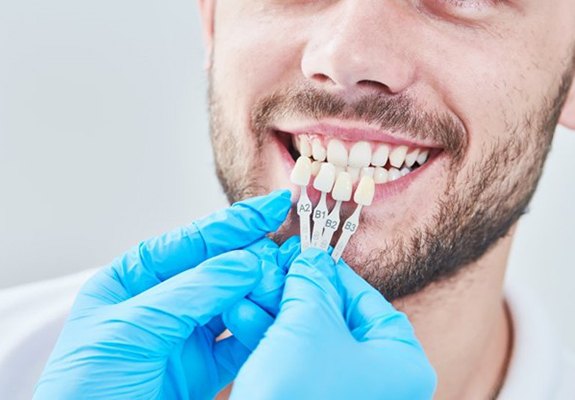 Do you want to fully transform your smile in one simple treatment? If so, veneers in New Braunfels may sound like a godsend to you. They are versatile enough to conceal just about any aesthetic imperfection that your smile may have. However, because they require the removal of some enamel, they are considered a permanent treatment. It's understandable that you might have some concerns before proceeding. That's why we've included the answers to some frequently asked veneers questions below.
How Long Do Veneers Last?
Since enamel does not grow back, your affected teeth will always need some sort of protection moving forward. However, you shouldn't have to worry about replacing your veneers for quite some time. With the right maintenance, they can easily last 10 to 20 years, possibly even longer. Just follow these simple tips to prolong their lifespan:
Gently brush your teeth twice daily with a toothpaste that contains fluoride.
Floss at least once a day.
If you suffer from bruxism (chronic teeth grinding), wear a custom-made nightguard to prevent damage to your veneers while you sleep.
Wear a personalized mouthguard while playing contact sports to protect your veneers from injury.
Quit smoking.
Avoid chewing on hard, inedible objects such as pencils, pens, ice cubes, or fingernails.
Visit us for a routine checkup and cleaning every six months.
Will Veneers Affect My Diet?
Unlike traditional braces, which severely limit the kinds of foods you can safely eat, veneers allow you to enjoy a perfectly straight smile without restricting your diet. Keep in mind that as with natural teeth, chewing on extremely hard foods such as popcorn kernels, nuts, and hard candy can increase the risk of chipping and cracking. However, cracks and chips in veneers are still quite a rare occurrence.
Does Getting Veneers Hurt?
Typically, your mouth will be numbed for the processes of preparing your teeth and placing your veneers. As a result, you shouldn't feel pain during either of these procedures. You might, however, experience some soreness in your gums or jaw for a few days afterward. The more veneers you receive, the more likely you are to feel some discomfort. Taking an over-the-counter pain medication as needed should be more than enough to handle the situation.
Will People Be Able to Tell That I Have Veneers?
Dr. Turnbow pays extraordinary attention to detail when she designs veneers. Together, the two of you will select the ideal size, shape, and color of your veneers to help them appear as beautiful and natural as possible. Plus, dental porcelain is remarkable in its ability to resemble tooth enamel. It even reflects light in the exact same way. You can rest easy knowing that once your veneers are in place, onlookers shouldn't be able to tell the difference!