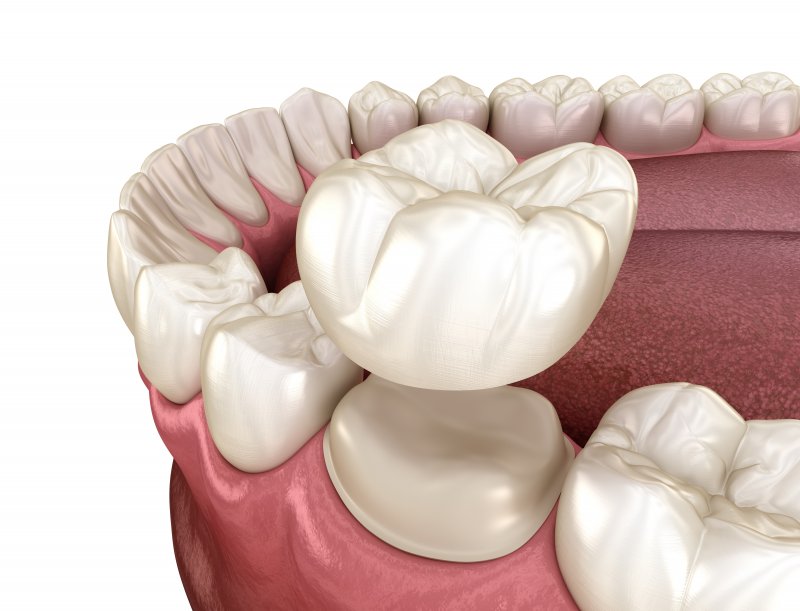 Have you replaced a damaged or decayed tooth with a dental crown? With this restoration, you'll be able to enjoy your full smile for many years to come. However, if you've started noticing a black line around the base of your dental crown, then this might be an issue you'll want to get corrected. But what exactly causes this situation? Read on to learn what this discoloration at the base of your restoration means and how you can treat the problem to rebuild your pearly whites!
What Causes a Black Line Around a Dental Crown?
Some dental crowns are made of porcelain fused to metal, which provides a compromise between strength and aesthetics. The inner shell of the restoration is constructed out of durable and reliable metal, while the visible external layer is made of natural-looking dental porcelain. The rim, however, isn't covered in this tooth-colored material, which allows for a line of shiny metal to be exposed. These dental crowns are initially placed so that the thin line at the base is hidden beneath the gum tissue. Over time, your gums may recede and reveal the bottom of the restoration, showing a darkened appearance around your tooth.
What Can You Do About the Black Line Around Your Dental Crown?
The most common way to address this cosmetic problem is to replace your dental crown with a new, all-ceramic one. This is because these restorations don't consist of any metal and are instead constructed from dental porcelain. With this material, your new tooth will appear as natural as possible while providing a durable solution for restoring your bite. By visiting your dentist, they can remove your old dental crown, take impressions of your exposed tooth, and fabricate a custom-crafted ceramic replacement.
The Benefits of All-Ceramic Dental Crowns
Even though you may not see a dark line around your dental crown yet, you might consider replacing it with an all-ceramic one ahead of time. You can expect to enjoy several benefits from these modern restorations, including:
Safe and biocompatible for sensitive teeth: A dental crown created from biocompatible dental materials, like ceramic and porcelain, can promote healthy gum tissue to grow around the affected tooth. This is especially helpful if you're sensitive or allergic to metal.
Improved appearance: Unlike porcelain fused to metal crowns, which can sometimes dull the color of the restoration, all-ceramic ones look more lifelike and are designed to seamlessly blend with the size, shape, and color of your other pearly whites.
Long-lasting solution: Due to their durable and professional dental material, all-ceramic crowns are resistant to breakage and can last 15 years or more with proper care.
If you're concerned about black lines forming around your new tooth, don't hesitate to speak with your dentist about all-ceramic dental crowns. They'll be more than happy to discuss your options so that you can achieve a more beautiful smile!
About the Author
Dr. Kim Turnbow earned her dental doctorate from the University of Texas Health Science Center in San Antonio. She's also a member of several groups like the American Dental Association and the Academy of General Dentistry. She provides a wide variety of high-quality services, including dental crowns, checkups and cleanings, and gum disease treatment. If you'd like to schedule a consultation, visit her website or call 830-626-1111.