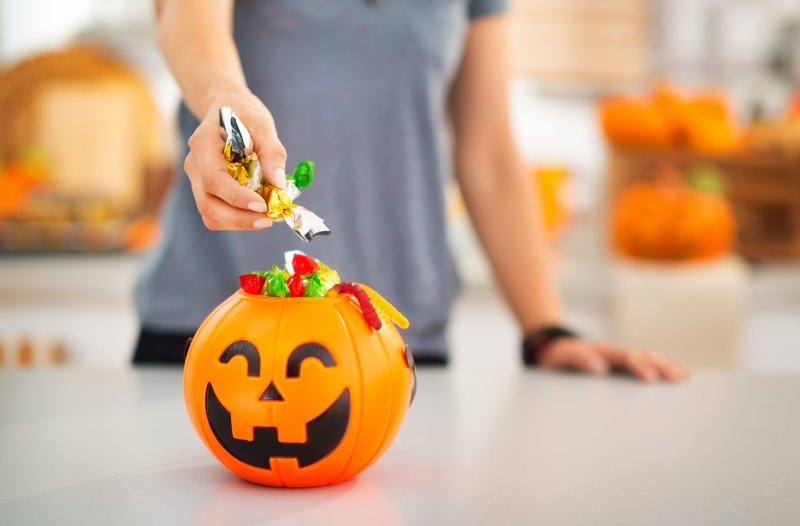 Halloween is just around the corner now. Soon enough, you will be preparing the finishing touches on your costume and buying sweets in bulk. As exciting and delicious as this holiday is, you probably already know that it doesn't have the best influence on oral health. That's why we have six tips to help you keep your smile healthy while still enjoying everything that Halloween has to offer. Continue reading to learn what they are.
Carefully Choose Your Candy
Having an occasional sweet treat is delicious, but some of them are worse than others when it comes to your dental health. That's why it's best to be careful about the types of candy that you and your kids are eating. It is best to avoid stickier sweets because they adhere to the teeth. Sticking to chocolate is a better idea because it easily washes away after you enjoy it.
Have a Thoughtful Plan
A candy bar or two isn't all that harmful, but when there are big buckets of sugary treats sitting around, it is hard to limit yourself. Have your family members choose some of their favorites. It's up to you to decide what to do with the rest. You could either donate it or store it someplace else for a later date.
Time Your Candy Consumption Right
The best time for you and your kids to eat sweets would be during or shortly after a meal. This is because your saliva consumption has increased, which will wash away the food particles that can cause tooth decay over time.
Stay Hydrated
You need water for nearly every system in your body to function properly. Your smile is no exception. By staying hydrated, you can prevent dry mouth, which provides the perfect breeding ground for bacteria. Fluoride in tap water is a leading way to prevent tooth decay. If you are choosing bottled water, look for one that contains fluoride.
Maintain Excellent Oral Hygiene
This is always important, but especially when there is a little more sugar in your diet. Remember to brush twice and floss every day using fluoridated toothpaste for at least two minutes each time. Soft-bristled toothbrushes are the best option. If it has been over six months, now would be a great time to go in for a cleaning and checkup with your dentist.
Chewing Gum
A great alternative to sugary candy is a piece of sugar-free gum. It tastes delicious and even has some benefits for your teeth since it increases saliva production in the mouth. Try having a piece for about 20 minutes after meals to reduce tooth decay.
As Halloween comes around, don't neglect your oral health. By using tips listed above, you can enjoy a healthy, happy smile!
About the Author
Dr. Kim Turnbow earned her Doctor of Dental Surgery from the University of Texas Health Science Center at San Antonio and is committed to continuing education to keep her knowledge and skills sharp. Currently, she is a proud member of the American Dental Association and Texas Dental Association. She is also a Fellow of the Academy of General Dentistry. For more information or to schedule an appointment at her office in New Braunfels visit her website or call (830) 626-1111.