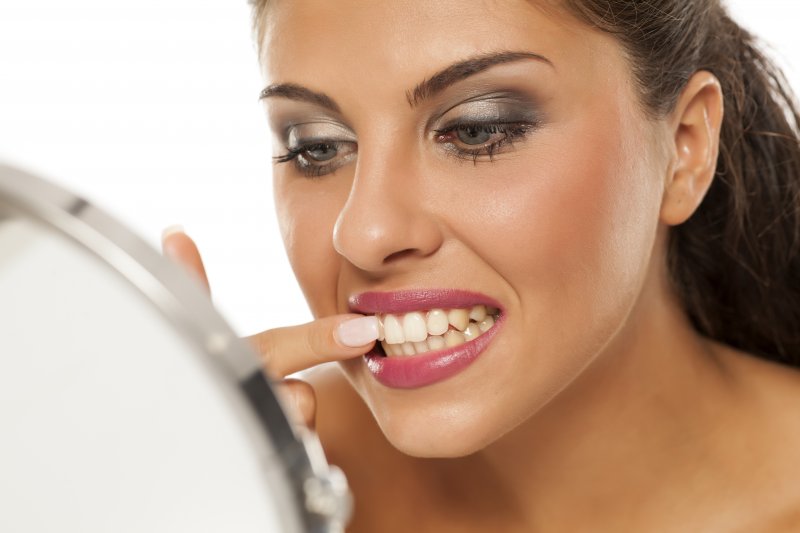 While watching a movie, you're happily munching away at some popcorn when suddenly, you realize a kernel got caught between your teeth. Although it can usually be removed by brushing your teeth or rinsing your mouth with water, there are some cases where the kernel will not budge. Are you currently in a similar predicament? We've all gotten something stuck between our teeth at some point in time. Your first instinct might be to panic if you can't dislodge it, but don't worry – here are some ways you can safely get a foreign object out of your teeth.
Push Gently with Your Tongue
Have you tried using your tongue to push the item out? It's a handy tool that can quickly help you dislodge food from between your teeth. However, try not to overdo this technique. If you overwork your tongue, it can cause jaw pain and lead to a range of issues, such as TMJ exacerbations, difficulty chewing, and even speech alterations. Make sure you push gently with your tongue and stop as soon as you feel like you're overdoing it.
Use a Dental Tool
Do not use a fork, needle, knife, tweezer, or another random tool to scrape the object out! Otherwise, you risk harming your teeth or injuring your gums. The metal can do some serious damage to your enamel, and injured gums are an invitation for gingivitis (the earliest stage of gum disease). Instead, use a tool meant for teeth like a wooden toothpick, dental pick, or water flosser. They can help you dislodge an item while having little to no impact on your smile.
Floss Carefully
Try flossing your teeth, but make sure you do so gently. If you forcefully drag the floss over the object, you can do more damage by lodging it even further down below the gum line. To prevent this from happening, slowly pull the floss through your teeth and tug gently. You can also try using a floss pick to see if that helps.
Eat Crunchy Vegetables
It may sound counterintuitive, but eating crunchy vegetables can be an effective way to remove unwanted debris that's stuck between your teeth. Carrots, celery, and cucumbers are a few healthy choices that can act like a natural, edible toothbrush. Plus, they're a tasty snack!
Try the Toothpick Trick
Take a wooden toothpick and slide it between the two teeth where the item is lodged. Push firmly and slowly, then let it sit there for a few seconds. This technique helps create a small space between the teeth so you can remove the item. After removing the toothpick, rinse with warm water to see if the object comes out. If it doesn't work the first time, you can try this method again a second time.
Are you unable to get the object out of your teeth even after trying these tips? Contact your dentist and ask for help. They can safely remove the item and give you the prompt relief you deserve!
About the Author
Dr. Kim Turnbow brings over a decade of experience to Gruene Family Dental. She completed her Doctor of Dental Surgery at the University of Texas Health Science Center at San Antonio. Dr. Turnbow is passionate about helping her patients achieve and maintain their absolute best smiles. If you have something stuck between your teeth, she'll help you get it out in no time! Visit our website or call (830) 626-1111 to schedule an appointment with Dr. Turnbow.