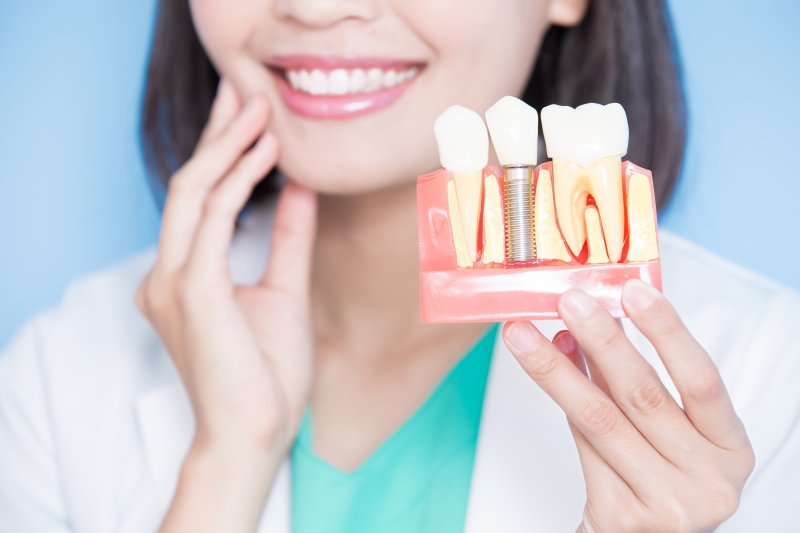 Extensive tooth loss can affect your life in many different ways, changing how you eat, speak, and smile. Luckily, dental implants can help you enjoy a complete and fully functioning smile once again. Although they're known for their impressive health and restorative benefits, they can significantly improve your appearance as well. That said, read on to learn more about the cosmetic benefits of dental implants.
Bone Tissue Enhancement
Did you know that it's harder to produce an ideal aesthetic result when there's a significant amount of bone and soft tissue loss? When you have a missing tooth, there's a greater chance for bone resorption to occur since the area is no longer being stimulated by regular chewing. Fortunately, a dental implant can help you maintain the structural integrity of the jawbone and keep further bone loss from occurring. Because of that, implants can help preserve a youthful facial appearance!
Optimal Implant Location
For natural-looking results, it's incredibly important for a dental implant to be placed in an optimal location. Otherwise, the restoration can appear longer than natural and abnormal due to the absence of the gum tissue extending between teeth. Placing an implant in an ideal position is essential for osseointegration (the fusion of the titanium post to the jawbone) and stable function. Additionally, successful placement provides enough space around the implant for an aesthetically pleasing restoration.
Custom-Made Replacement Teeth
A personalized treatment plan is vital to create a beautiful and aesthetically pleasing result. The process involves choosing the right number of implants and the best type of implant for your smile. Your dentist will customize each restoration attached to your implants to ensure you achieve your desired results. Each tooth will be carefully crafted to match the exact size, shape, and color of your remaining teeth for seamless results.
Soft Tissue Management
If you have receding gums, your dentist may be able to use dental implants to reconstruct the gum tissue with soft tissue grafts and improve their appearance. While this step isn't a necessary part of the dental implant process, it can certainly be incorporated to achieve more ideal results.
Prosthetic Design
In some cases, a "black triangle" space is left between the front teeth due to inadequate papilla. The good news is that your dentist can help you avoid that by creating a dental crown that'll help reduce the amount of space between teeth. That way, it'll appear as if the prosthetic teeth are emerging out of the gum tissue rather than resting on top of it. If it's done successfully, the restorations will look natural rather than artificial.
Do you have missing teeth? Contact your dentist and ask about dental implants. It's one of the best tooth-replacement solutions that'll allow you to enjoy improved oral health and a beautiful appearance!
About the Practice
At Gruene Family Dental, we go the extra mile to make every appointment as satisfying, enjoyable, and comfortable as possible. Our team uses the latest technology and most advanced techniques to provide you with the quality dental care you deserve. If you have missing teeth, we offer dental implants to help rebuild your smile. Visit our website or call (830) 626-1111 to schedule a consultation today!